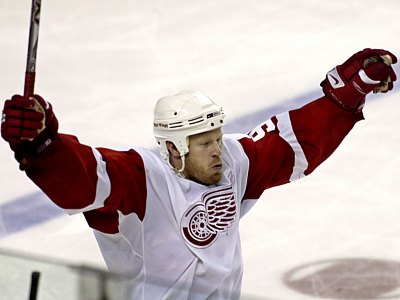 The Red Wings wrapped up their preason play today with a hard fought 4-3 win over division rival Chicago.In a game where Johan Franzen picked up 3 points(1 goal,2 assists).
Matthew Lombardi opened the scoring at the 3 minute,57 second mark of the opening frame.Alex Ovechkin quickly answered back with his seventh goal of the preseason.Marek Zidlicky then scored from a point shot on the powerplay with help from Franzen as he screened Chicago goalie Dwayne Roloson.Brad Richards then banged in two goals to tie and give the Hawks the lead,until Mikeal Samuelsson with help from Franzen scored to knot the game up at three on the powerplay.6 minutes and 24 seconds later,Samulsson rapaid the favor as Franzen scored the eventual game winner.Vesa Toskala picked up the win stopping 27 of 30 shots he faced while counterpart Dwayne Roloson stopped 21 of 25 in a losing effort.
Detroit started off the pre-season with a shutout lose to the Chicago Blackhawks,losing two to nothing. They followed this up with another loss,this time five to four to the Columbus Blue Jackets,fresh off yet another losing appereance in the Stanley Cup Final.They then beat former teamates Olaf Kozlig and Mike Modano three to two in Tampa with goals from two new additions in vetern grinder Georges Laraque and newcomer Cody Mcleod.
They then lost to Columbus again,this time four to one with the lone goal coming from Danny Cleary.They then beat the Predators,then dropped two straight to the lowly St.Louis Blues.They then tied the Predators and reeled off two straight wins to end their pre-season with a record of four,five,and one.
Johan Franzen started off slow,not recording a point until the eight game where he recorded a hatrick.The next game against the Capitals he also recorded a hatrick.To cap his late game surge he added a goal and two assists in the final game against the Blackhawks,bringing his point total to nine points off of seven goals and two assists.The captain Mats Sundin also recorded nine points off of six goals and three assists.
Tied for second on the scoresheet were Daniel Cleary and Jason Williams each with seven points.Cleary with three goals,and four assists and Williams with two goals and five assists.They are expected to play alongside topline centre Mats Sundin.
Tops on the defensive side of scoring was Marek Zidlicky with six points coming off of four goals,two assists.Next up was Sergei Gonchar with four assists.Mike Green like Franzen started slow but slowly started to find his legs as the pre-season play wound down.He recorded a goal and a assist in the final few games.
On the goaltending side of the fence,Vesa Toskala started the majority of the games with seven starts,going three and four with a 3.69 gaa and a .877 save percent.Ilya Bryzgalov started 3 games and went one,one,and one with a 2.18 gaa and a .917 save percent.
Based upon these numbers we can expect the line to look like this:
Cleary-Sundin-Williams
Franzen-Lombardi-Samuelsson
Dawes-Kolanos-Kozlov
Mcleod-Beech-Laraque
Gonchar-Green
Zidlicky-Tanabe
Bouchar-Muir/Robidas
Bryzgalov
Toskala
With these solid lines it looks as though the Wings will be in contention once again for a playoff spot.
From the Detroit Free Press-September 30th-2008.