After starting the franchise with a league-worst season of 22 wins, the Calgary Flames have since then made the playoffs for 3 consecutive years. However, the playoffs have not been kind to them, producing three consecutive quarter-final losses. Last season was Calgary's best season, as they won the Northwest division with a club record 47 wins and 104 points. GM theides, who has been with the club since the get-go, will look to build on last season's successes and push further into the playoffs in Season 5.
Offence
The club will once again be led by franchise-forward Jason Spezza. Spezza is a career Flame, one of few career one-team players in the CMHL. Last season was his best, as he led the Flames with 93 points. Flanking Spezza on the team's top offensive unit is expected to be returnee and last year's breakout player for the club, Milan Michalek, as well as newcomer Markus Naslund. Naslund is coming into Calgary after posting his worst career year in the CMHL, and he'll look to rebound in a big way on this top line.

The supporting cast for the Flames is as strong as its ever been. Last year's 2nd line pivot, Patrick Marleau, has left town, replaced by stud rookie Nicklas Backstrom, who is expected to be a Calder Trophy favorite this year. Returnees Ray Whitney, Mike Comrie, Jordan Staal and Nathan Horton will be joined by newcomer Kristian Huselius in what can be dubbed one of the most potent offenses in the West.
Defence
The Calgary defense has always been feared as year in and year out, GM theides flanks his back end by some of the biggest, strongest defenders in the league. Once again leading the D will be perennial-Norris Trophy candidate Eric Brewer who had his best year to date last season and was among the league leaders with a +46 rating. He's expected to be joined on the top pairing by one of the two big D acquisition that GM theides made this offseason: Derek Morris and Ryan Whitney. Whoever doesn't line up with Brewer will get the opportunity to play with another potential Calder candidate in Erik Johnson. Trevor Daley, Matt Spiller and Colin White round out a stellar D corps.
Goaltending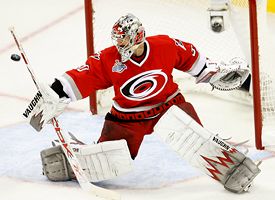 Ryan Miller led the Flames to a division championship last year with a stellar season of 42 wins, his first season as a starter. Many believe he was snubbed when he failed to receive a Vezina nomination this summer. But, GM theides didn't buy into the hype and shipped Miller out of town to the Senators, picking up another even younger goalie instead in Cam Ward. Ward is coming off his first season as a starter as well, where he posted 29 wins with a weaker Boston squad. He'll be expected to handle 65+ games with the Flames and anything shy of 40 wins will be a letdown. He's expected to be backed up by veteran Brent Johnson who was brought in from San Jose to replace departed free agent John Grahame.
Future
As usual, the Flames boast a steady stable of prospects waiting for the big show, among them the likes of Phil Kessel, Wojtek Wolski, Kyle Okposo, Michael Frolik, and Bobby Sanguinetti. The one thing that is lacking is a true blue-chip goalie prospect, but with 24-year old Ward in net, that is only a concern if he falters.
Playoffs
There is no question that anything shy of a playoff berth would be a huge disappointment for Calgary fans, if not a division championship. This team showed last year that they are the real deal and that is expected to persist for many years. The real test will not be if they can make the playoffs, but how far they can go when they get there.
Quick Hits
Best Bargain: Milan Michalek – At $650,000, Michalek put up 75 points last year and is expected to produce similarly this year. That's what I call bang for your buck.
Overpaid: Viktor Kozlov – There aren't really any overpaid players in Calgary, but Kozlov is getting a pretty penny for the 34 points he put up last year. He'll need to to tack on at least 20 points to that number to justify his salary.
Breakout Player: Nicklas Backstrom/Erik Johnson – One or both of these players will be in the heat of the Calder race. Should be exciting!
Overrated: Matthew Spiller – His strength and intensity make him a valuable asset, but that's about all that makes him a valuable asset. At least he's cheap.