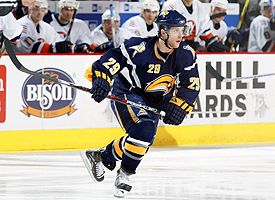 Former Ducks right winger Jason Pominville will get a chance to show case his talent in a Phoenix uniform.
Phoenix, Arizona -- It's does not happen too often, but rivals got together to make a deal. Both gm's had held several talks for both players mentioned but nothing was ever concluded. However late Thursday night Ducks gm Sasha and Gervais were able to come to an agreement after several hours on the phone.

New Duckling - Burns
Brent Burns is now heading to Anaheim with a club who was looking for a top caliber passing defenseman and along with the young future norris player, the Ducks also acquired young prospect Andreas Nodl. In return the Coyotes acquired New Jersey's third round pick in this year's deep draft. But the main piece of the puzzle for the Yotes and gm Larouche was Pominville, who according to many scouts could provide another sniper in the clubs arsenal.
"We just needed to make this move, Burns will be missed. He did well in pre-season for us but seemed to struggle in the early goings of the season. We just could not have Foote sit idle and with coach Martin made a decision to allow the young player a chance to play. Jason will allow us to move Williams to left wing along with Pominville and Vermette. We felt that we needed a strong player with the puck to allow Vermette more room to score" Larouche added from the office in Phoenix.
The move means that Ponikarovsky will be the odd man out and could be shopped around or just simply be demoted to the checking line. According to Larouche, the Coyotes are only beginning some changes as they hope to go in a new direction and to improve the club. Rumors even suggested that a big superstar could be heading this way in a 5 player deal but Larouche would not comment on the details.
One thing is for sure. After ten games the Yotes are 4-2-2 and the gm is still looking to improve his club. Maybe we could actually get a chance to see the fans purchase playoff tickets for the very first time in the clubs history.