General manager made an appocalyptic move when he decided to trade franchise left winger Rick Nash. But while he replaced him with another franchise LWer, he also added a huge piece to the puzzle in Superstar Danile Alfredsson.
Not only is the top RWer a force in the sister league that is the NHL, but Alfy proved to be a force and a go to guy in the CMHL season after season...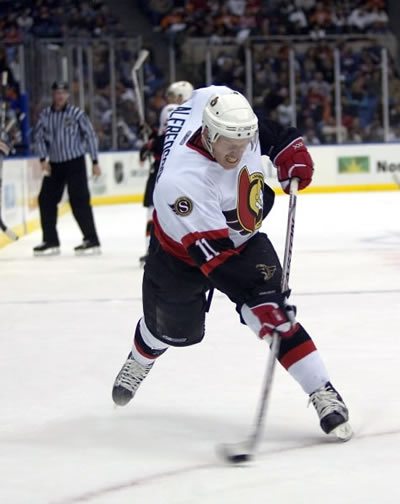 Now reunited with his international nemesis but team's companion Saku Koivu, Daniel Alfredsson will enjoy the success he always had.
He has an impeccable work ethic and never takes a shift off. Smooth and polished in all aspects of the game he possesses oodles of creativity and an incredible sense for the net.
In 5 games with his new team, Alfredsson managed 6 goals, 5 since reunited with his usual center, Saku Koivu, who returned from an injury.
Now looking for better chemistry with the Left wing, that line will be in time, the driving force of the Sabres, hoppefully the top line of the CMHL. To do so, they will have to surpass some amazing duos, most of them playing in the West.
GM Ludovic Raynal expects to throw them at the wall... boum boum, Koivu - Alfredsson, what an exciting pair.