While many teams have been discussing, tweaking and changing their teams early in the season, GM habsfan93 has been uncharacteristically silent about his team's performance to date - no doubt wanting to get in a decent number of games in which to evaluate the team's performance. After a 4-2 win earlier against top Eastern team, the Florida Panthers, the silence was finally broken. Here's what he had to say...
GM habsfan93 steps up to the podium, statement in hand...
All in all, I have been extremely pleased with the start of the season. How could I not be? The Blue Jackets are currently sitting tied with the Canucks for the best record in the league. We've gotten some outstanding play from the whole roster, and everyone is doing their job.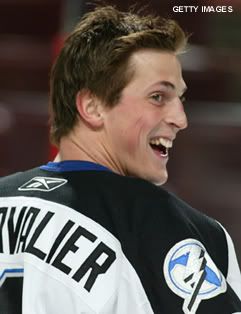 This summer, we made a lot of changes, and the biggest change was bringing in Vinny Lecavalier. We expected him to step up, be a leader and the face of the franchise, and he hasn't disappointed, trailing only the Windy City Duo in league scoring. (Coach John) Tortorella spent about 10 games messing around with the lines, and we seem to have finally found a good trio as Vinny centers Henrik Zetterberg and Brad Boyes. We think Henrik is going to have a big year - much bigger than last year. And Brad had a really slow start to the year, but in the last 4-5 games, has really turned it up a notch and shown the offensive prowess we expect.
On the second line, I can't say enough right now about Alex Frolov. 11 goals through 17 games, 7 of which have come on the power play, and 4 of which have been game-winners. Vinny may be the face of the franchise, but so far, Alex Frolov has been our big-game player - the guy we want on the ice with 1 minute to go. He's been playing with Eric Staal and Milan Hejduk in a line that we really like on the ice.
We started the season with Jussi Jokinen on the 3rd line, and after about 10 games, we could see it wasn't working. Jussi just wasn't fitting in with Tortorella's system and mentality, so we struck a deal with Colorado to give him a better opportunity to play. Mike Sillinger has stepped up to play with Shanny and Higgins to form a good trio - although I still think they can do better offensively. A lot of Shanny's assists have come on the PP, as he has been given the time there with Frolov instead of Boyes/Hejduk. The 4th line, we really like - one of the best defensively in the league I think.
On defence, really like what I'm seeing - all six guys are playing well and chipping in offensively. And in nets, what can I say, Henrik is King of the Crease. With an 11-1 record, rewarded by being named Player of the Month for October, he has to be the early favorite for the Vezina. Dwayne Roloson was brought in to be a greybeard and give Henrik some time off - he has played well but not superb.
I think the key though to the Blue Jackets great start, and this was the entire goal of all our summer moves, is discipline. Being one of the most penalized teams last season, I was not going to let that happen again. So far, only the Rangers have taken less penalties than we have.
To sum up, I'm loving the start to the season, I'd like to keep the good play going and if the team starts slumping, I will not hesitate to make changes to reinstate a winning atmosphere - you all saw proof of that last year with Mighty Joe Sakic.
Any questions?
Q: Looking at your division, do you feel there is anyone who can challenge your team, or are you headed for a 4th straight division crown?
A: You know, that's a good question. Its pretty early in the season to speculate too much on that. Chicago has looked good, and they beat us early on this year, but there are rumours of infighting at head office, and I don't know how that will impact the team's play. I don't think Nashville or St. Louis will be an issue, and to be honest, Detroit's play thus far has been very surprising. I did not expect to see them where they are.
Q: With Milan Hejduk heading for Unrestricted Free Agency this summer, have you started contract negotiations? Are there plans to bring him back?
A: I don't typically discuss these matters, but I definitely can say that we will speak with Milan. This will be his 3rd year with us and he has been a big contributor, it would be foolish to let him walk without speaking with him. That said, we have 2 young RW's in the system who are itching for a chance to play - Jakub Voracek and Dave Bolland. With Shanny also heading to UFA, that would conveniently open two spots on the wing next summer.
Q: Could Hejduk be moved before the end of the season, if you don't think he'll be resigned?
A: At this point, we are not in negotiations with any team, nor are we shopping any players. Obviously, we are always listening, but right now there are no plans to make any trades - I would be foolish to mess up the chemistry the team currently has going.
Ok, that's all for today, thanks for your time and GO BLUE JACKETS!