The Vancouver Canucks, a once powerful team in the CMHL was now an underachieving, overpaid team that missed the playoffs two seasons consecutively. The Canucks had always been a great team on paper, but, there was something missing, and they weren't quite sure what that was.

Sensing management's irritability and their ever shrinking confidence in the General Manager, GM Fochler (my last name) decided that changes, and big changes needed to be done. Most of the pieces were in place, but a couple of off-season moves proved to be crucial to the team.
The defense core, was built on last year, by signing Free Agent Doug Murray, and adding Scott Hannan and Brendan Witt. These three defensemen, were brought in to complement the duo of Dion Phaneuf and Mattias Ohlund. Although, this wasn't quite enough for GM Fochler, as he knew his team was going to take a different approach to this year and be a defensive team. Completely different that previous years, where the Canucks were all about the offense. To ensure the Canucks had plenty of depth on the blue line, he brought in Andrew Ference, Chris Campoli, and Richard Matvichuk to complement Matt Carle, Matthew Corrente and Brendan Mikkelsen. Needless to say the defense was set, and going to be a force to be reckoned with.

The offense, was something that had underachieved for two consecutive years. A team that had seen the likes of, Lecavalier, Nash, Murray, Heatley, Kovalev, Sullivan all severely underachieve for the Canucks. In response, each and every one of them was shipped out of town. The most surprising was the trading of a superstar, Dany Heatley. In his 4 full seasons, and entering his 5th season with the Canucks, every season he underachieved, never breaking a point per game and unable to bring the Canucks to the next level, a move was to be made that would shock the CMHL world. Dany Heatley was traded to the Phoenix Coyotes in return for Brandon Sutter, Matt D'Agostini, Joe Colborne and a 1st round pick in the upcoming entry draft. Articles were written about the Canucks immediately following the trade, and the critics were doubting what the Canucks could truly do. However, players that were never given an opportunity were going to step up.

The Canucks made a couple of other key acquisitions. The shut down line had two of the three linemates needed with Kesler and Talbot, but there was something missing. When the free agent Ethan Moreau expressed interest in joining the club, GM Fochler knew that the third member of the line was found. And signed the winger to a three year contract.

As mentioned above, the departure of Heatley left a hole that needed to be filled and Andrew Brunnette stepped up. Now playing wing on the 1st line, Brunette was given a chance to step up and he hasn't disappointed. Langenbrunner also returned to Vancouver where he experienced limited success the first time around. This season he has surprised everyone playing on the second line and scoring at more than a point per game.

However the biggest move, was the one that brought Burnaby Joe back home to Vancouver, after two seasons away. Joe Sakic, took the reigns of the team over from now retired Captain Trevor Linden and led by example. Sitting fourth in league scoring, Sakic has compiled 24 goals and 23 assists, in 31 games. An impressive number for any player. This has sparked Ales Kotalik and former first line center Anze Kopitar. Both are having their best seasons yet. At the Christmas break, Kopitar has 41 points in 33 games playing on the second line, and Kotalik has 40 points in 33 games playing alongside Joe Sakic and Andrew Brunnette.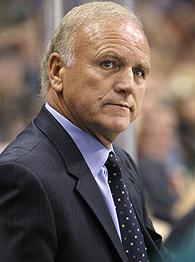 The next position to analyze is goaltending. Another position filled with depth on the Canucks roster. A superstar goalie in Marty Turco, a young solid netminder in Kari Lehtonen, and a top prospect in Leland Irving make up the depth of the Canucks netminding. Marty Turco was another player that had a somewhat previous successful stint in Vancouver that has returned, and has flourished to end the season last year and up until now this year. Kari Lehtonen, was a goalie the Canucks had tried to acquire many times before, and when they were able to finally make a deal for the young netminder, GM Canucks knew the goaltending would be solid for many years to come. On top of that, they even have a top prospect goalie who has led the Manitoba Moose to second place this season in the ICHL at Christmas break.

Coaching has been an issue for the Canucks over the past couple of seasons. No coach has found much success in the past three seasons. Wayne Gretzky, unfortunately was unable to lead the Canucks to success and was let go. Paul Maurice was hired, and let go. Dave Tippett was given an opportunity and couldn't achieve any success and was fired as well. Finally Darryl Sutter was brought in, and the Canucks went on a tear, going 8-1-1 in their last 10, unfortunately it just wasn't quite enough and the Canucks fell short. Sutter was offered a top management job in the summer and left the Canucks bench. An opening was available for a long time, as GM Fochler knew this was an area that wasn't something that should be rushed. Jaques Lemaire, a defensive mastermind, was noticed and targeted. Lemaire would be a perfect fit for the Canucks and their defensive style of play. Lemaire was hired at the beginning of the 5th season.
So with all these off season moves, how did it work out for the Vancouver Canucks at the Christmas break of the 5th season. The Canucks currently sit in 2nd place in the Western Conference, posting a record of 24-6-3 for 51 points. It took the Canucks 60 games last season to reach 24 wins, and this season it has only taken 33 games. The Canucks top 5 defenseman are all in the top 25 for Norris trophy voting. Marty Turco sits 2nd in Vezina Trophy voting, and Sakic, Kotalik, Kopitar, and Langenbrunner are all in the top 25 in scoring with over a point per game.

The Canucks look poised to make the playoffs again, finally, it's been a long time. It's about time. The Canucks will look to once again regain some of their dominance in the West.