Over the Christmas break, New York Rangers General Manager Justin Roche made a trade. He sent Forwards Brad Richards and Miroslav Satan to the Dallas Stars. In return, he recieved four players, each of whom made their Rangers debut on Sunday.
Forward David Legwand centered the second line with Martins Karsums, and his former Stars teammate Radim Vrbata. Legwand figured in on all three of New York's goals, scoring two and adding an assist. He also registered three hits in 25 minutes of ice time.
Forward Radim Vrbata also figured in on all three goals, assisting on both of Legwand's tallies, and adding one of his own. "Radim is a guy we've liked for a while" said GM Roche. "He normally a Right Winger, but because we'd like him to play with David and Marty, we asked him to play on the left side. If he keeps playing like this, we might have to make it permanent".
Defenceman Matt Greene, also aquired in the Richards trade, skated on the 2nd Defence pairing with Dennis Wideman. Greene assisted on David Legwand's 3rd period goal, and registered three hits in 22 minutes of ice time. Greene will also man the first Powerplay unit, and kill penalties for the Rangers.
Defenceman Nick Schultz played on the 3rd Defence pairing with rookie Bruno Gervais. He als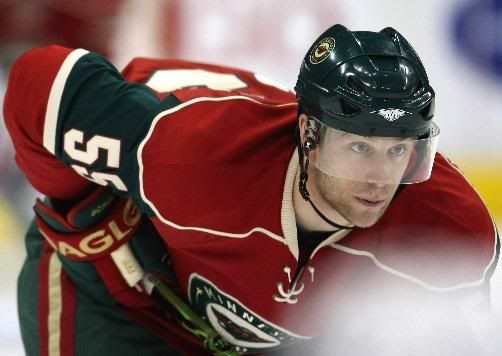 o saw an odd shift with Dennis Wideman, and manned the first Penalty Kill unit. Schultz finished the game with one hit and one shot on goal in 15 minutes of ice time. Head Coach Joel Quenneville had this to say of Schultz. "Nick is a great young Defenceman. He's extremely sound in his own end and we love the intensity he brings to the game. He only played 15 minutes tonight, but that number will definately increase as the season continues.
The four new Rangers will have another chance to make an impression tomorrow, as New York takes on the Colorado Avalanche.