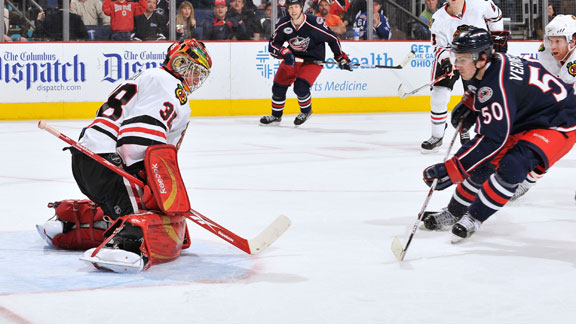 The Columbus Blue Jackets clinched their 4th consecutive Central Division title yesterday with a win over the Division Rival Chicago Blackhawks. The win was their 49th on the season, a mere 4 wins away from the club and CMHL record of 53 wins in a single season.
Along with Columbus, Vancouver and Anaheim currently sit at 50 wins on the year, and with all three teams having at least 8 games left on the season, it stands to reason that that record is destined to fall in the coming weeks.

The real question may be which of these three teams can capture the President's Trophy and come out on top. Vancouver and Columbus have been back and forth in the top spot all season, with Anaheim chasing their tails. But a recent hot streak from Anaheim has put them right in the mix. This may go down to the wire.

But back in Columbus fans were celebrating the division win, which was particularly sweet. Last year, the Blackhawks held the division for much of the season before a stellar final 25 games allowed Columbus to jump ahead in the final weeks.

This season was much different - from Day 1, Columbus has held the division and never looked back. Although things have not been so smooth lately. Since acquiring veteran defenceman Nicklas Lidstrom at the trade deadline, the club chemistry seems to have been shaken, as they have posted a 4-5-1 record, punctuated by going 1-4 in Lidstrom's first five games. However, since then, the club has gone 3-1-1 and seems to be relocating its groove.

This is good news for a team that could use all the momentum it can handle as it enters the postseason. Given that they are now guaranteed a top 3 seed in the conference, it looks like they will face off in the first round against one of the teams currently fighting for a spot - Nashville, Calgary, Dallas, Los Angeles or Phoenix. All would represent a welcome change for Columbus, who has had tough first-round matchups against San Jose for the past two years.