Over the course of 30 days, yours truly is going to take a look at each team in the league, examine their off-season moves, assess the biggest issue facing the team, highlight a player or two to watch for, and finally give an outlook on the season.

Next up, the Toronto Maple Leafs.
Toronto Maple Leafs
Season 5: 34-37-9-2 (10th in East, 5th in Northeast)
GM: Stajanfan (2nd year in Toronto, 6th year in CMHL)

Currently Projected Season 6 Roster:
(Incoming Players in Bold, Rookies in Italics)

Demitra - Little - Hejduk
Vanek - Stajan - Svatos
McAmmond - Peverley - Lundmark
Yelle - Betts - Park

Gonchar - McCabe
Lydman - Goligoski
Gervais - Murray

Leclaire
Tordjman

What They Did In The Off-Season:
Stajanfan enters his 2nd season as GM of the Toronto Maple Leafs and expectations have never been higher. On paper this is the strongest team the Leafs have ever iced and anything short of a playoff appearance will be a major disappointment. When Aaron first took over in Toronto it seemed he had his work cut out for him. The team was simply a mess, and that is the nice way of putting it. However he quickly fixed that and made them respectable once again. They ultimately fell short of the playoffs by a couple of points and finished in 10th place in the rapidly improving Eastern Conference. Although they didn't grab a spot in the top 8 like Aaron was hoping for, it was still a giant leap from where the team was at before he took over.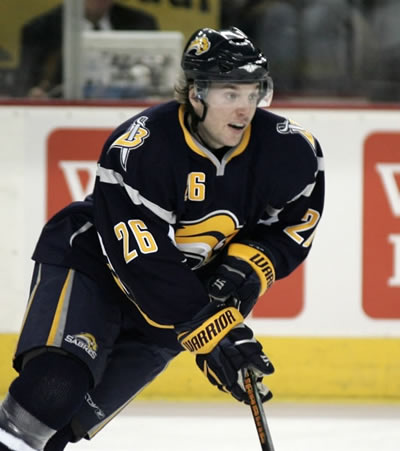 Entering the off-season the Leafs wasted no time making changes. They swapped Kimmo Timonen for Marc Staal, dumped Alex Steen for picks, and upgraded Erik Christensen for Marek Svatos. Then came the draft where Toronto had 3 picks in a row near the end of the 1st round. They would select Tim Erixon, Dylan Olsen, and Marcus Johansson. Shortly after it would be revealed that Erixon was selected on behalf of another team to be included in a future deal. That team would end up being the Stanley Cup champions, the Columbus Blue Jackets. Along with Erixon the Leafs would also send Trevor Lewis, Jonas Anhelov, and Cody Goloubef. Coming back would be recently drafted Tomas Vincour and proven sniper Milan Hejduk. With his lowest point total being 83 in 5 seasons, Hejduk gives the Leafs a significant boost in their top 6. However Aaron wasn't done just yet. In another blockbuster deal he would send recently acquired Staal along with top prospect Mikael Backlund to Buffalo for another sniper in Thomas Vanek. The team would also bring in former Norris winner Sergei Gonchar for prospects and a 1st round pick. Now so far we got Gonchar, Vanek, Svatos, and Hejduk coming in for Timonen, Christensen, and Steen when it comes to current CMHL players. To be fair they did give up a lot of youth but there's no question the roster looks significantly stronger with the changes that were made.


Entering the Free Agent market Toronto would once again make some noise. The team would sign top college Free agents Tyler Bozak and Christian Hanson. Then proceed to lock up depth forwards in Stephane Yelle and Richard Park. Dean McAmmond would also sign to a very good contract at only $1.3 Million a season. The Leafs would also take a shot at former All-Star Frantisek Kaberle in hopes that he can find his offensive game again. Although perhaps the biggest splash they would make would be in signing Jannik Hansen to an offer sheet for just under $2 Million a season. Hansen was the ICHF playoff MVP in S4 and is close to making the jump to the big leagues but that is a lot of money for an unproven CMHL player. New Jersey decided not to match and Hansen would make the move to Canada.

Still not content with his roster Aaron would make a few more changes. He would dump veteran Bill Guerin to Pittsburgh in an effort to gain some valuable cap space. Then top prospect Jordan Eberle who made the team at the age of 18 was dealt to Ottawa for Thomas Hickey. A surprising move considering how much time the Leafs spent developing the kid last season but it was a deal they could just not pass up. The final and most recent move in Toronto saw them send Pavel Kubina, recently signed Jannik Hansen, and prospects Hanson and Tomas Tatar to Vancouver for Doug Murray and top prospect Joe Colborne. GM Aaron is very high on Colborne and sees him developing into a top power forward in the CMHL.
Biggest Issue Facing The Team:

Although the Leafs improved greatly over the summer there are still a few key issues that need to be addressed. The first being goaltending. Pascal Leclaire has only one season under his belt as a starting goaltender and should he falter there is no one to replace him. Josh Tordjman seems to have the inside track on the backup job but he is nowhere near ready for the CMHL level yet. The Leafs should be actively looking for a veteran backup to help LecLaire out if he struggles.

The 2nd issue we find is a lack of toughness throughout the pro roster. Don't be surprised if the Leafs finish with the least amount of hits in the entire CMHL. There's plenty of skill on this roster but the team could use a few grinders willing to do the dirty work that is sometimes necessary to win games.

Player To Watch:


Bryan Little - Little looked great in the 10 game call up he got last season and it looks like the Leafs will give the young center every opportunity to become the teams 1st line center. With the likes of Demitra, Hejduk, and Vanek on his wings you can expect some big numbers from the 22 year old.

Season 6 Outlook:

It remains to be seen whether we can label the Leafs as a Stanley Cup contender but making the playoffs shouldn't be an issue for them this season. The team is as strong as it's ever been and the fans finally can be excited about their team again. Aaron has done a great job with this team and things should only get better from here on out.