Over the course of 30 days, yours truly is going to take a look at each team in the league, examine their off-season moves, assess the biggest issue facing the team, highlight a player or two to watch for, and finally give an outlook on the season.

Next up, the Atlanta Thrashers.
Atlanta Thrashers
Season 5: 31-38-11-2 (13th East, 5th Southeast)
GM: ATLSimon (2nd Season)

Currently Projected Season 6 Roster:
(Incoming Player in Bold, Rookies in Italics)

D. Sedin - H. Sedin - Satan
Schaefer - Zajac - Devereaux
Hilbert - Whitfield - Zigomanis
Pandolfo - Pouliot - Jackman

Girardi - Edler
Schneider - Methot
Smid - Hale

Conklin
Schneider

What They Did In The Off-Season:

Although it doesn't show up in the standings, Season 5 represented a year of significant improvement for the Atlanta Thrashers. Handed a team that was quickly on its way down just prior to the trade deadline in Season 3, GM Simon's rebuilding process looks to be coming along quite nicely. And he didn't rest on his laurels this summer either, as he was a busy little bee getting the Thrashers ready for Season 6, which could be their best year since they last made the playoffs in Season 2. Simon was quiet right up to the draft, as he and his scouting staff had two first round picks to prepare for. The Thrashers wound up choosing American winger Chris Kreider and Swedish defenceman David Rundblad at picks #17 and 20. Two solid picks that will help augment the depth of this club. The Thrashers closed the draft with their third pick, selecting Canadian center Philip Varone in the 6th round. Although Simon originally had more than 3 picks, several were dealt for 2010 picks in moves that would set up one of the biggest coups of the Free Agency period. Simon closed the draft out by trading veteran defenceman Teppo Numminen to the Wild for a 3rd rounder in 2010 - this would turn out to be a wise move as Numminen would announce his retirement only a few weeks later. Numminen wasn't the only retiree. The Thrashers were also impacted losing Ladislav Nagy, Marcus Nilson and Richard Zednik, the three of whom combined for 150 points in Season 5.


Simon settled down though and began his negotiations with the club's RFA's, most notably the 1-2 punch at center of Henrik Sedin and Travis Zajac. While Zajac proved anxious to sign with the club, Sedin felt that he deserved a significant raise and Atlanta was not forthcoming. Along with his agent, he settled in for what would be the longest negotiation with a significant RFA in the league. Seeing that Atlanta was not going to budge on their own terms, Sedin sought offers from other clubs, eventually receiving an offer sheet from the division-rival Tampa Bay Lightning on a 4-year deal at $4,000,000 a year. Not wanting to lose their star center for a series of draft picks in 2010, the Thrashers relunctantly matched the offer sheet, and Sedin got his way. He also set the standard for his younger brother who's contract is up next summer.

A week after acquiring defenceman Freddy Meyer from the Sharks, the Thrashers received a league-wide fax from the Dallas Stars, who were looking to dump veteran forward Miroslav Satan's contract in a hurry. Seeing an opportunity to pair a veteran scorer with the Sedin's, Simon shipped Meyer off to the Dallas for Satan, prospect Maxim Trunev and a 2nd rounder. Given that Meyer only cost him a 5th rounder in the first place, this would turn out to be an excellent overall move for the Thrashers as they upgraded their 5th to a 2nd, and picked up two more assets.

Last summer, the Thrashers made a major splash by signing Ladislav Nagy away from the Oilers on an offer sheet, a move which cost them dearly in draft picks. Although Nagy didn't replicate his 97 point season, he did manage 71 points and led the Thrashers in scoring. However, in a stunning turn of events, Nagy walked out on the Thrashers this summer to go play in Europe, leaving them with a 1-season return on their money, and Edmonton with another season of drafting gold. Not to be put down, Simon got back on his horse and did it again, plying Calder Trophy nominee Daniel Girardi away from the Hurricanes, a move which cost him a 1st, 2nd and 3rd round picks next summer. There's no question though that Girardi is a safer bet, and he'll be given every opportunity to improve on last season's 39 points in Atlanta.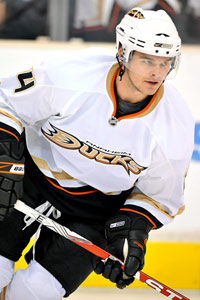 Still armed with a healthy dose of salary cap room, the Thrashers went to work on the UFA market, and made a splash, signing Jan Hejda, Peter Schaefer, Jay Pandolfo and Tim Jackman during the first round of signings. Schaefer is a returnee to the Thrashers, as he played for the club last year and decided that resigning was his best option with no other significant takers on the market. Pandolfo and Jackman reinforce the 4th line, while Hejda would end up as an asset in a future deal. Still not done, the Thrashers went on to sign Bill Thomas, Patrick Kaleta, and Trent Whitfield. Whitfield should make the Pro roster, while the others will provide quality depth to the farm club. Finally, the Thrashers won a massive bidding war on forward Chris Kunitz, who's two consecutive seasons of 33 points were deemed worthy of a 3-year deal at $4,100,000 a year. There's a strong belief around the league that Kunitz has 60 point potential, and a year in the minors to regain his confidence will get him to that level. The Thrashers clearly believe that more than anyone.

The Thrashers next move would see the recently signed Hejda dealt to the Ducks, along with top prospect Jiri Tlusty for David Hale, and prospects Aaron Palushaj and Landon Ferraro. Tlusty has struggled to break out ever since his weiner wound up on the internet, and a change of scenery might do him some good. The Thrashers also get $6,000,000 cash in the deal, which helps their bottom line. Finally, lacking a what they thought was a backup goalie at the time, the Thrashers picked up Ty Conklin from the Avalanche.

I saw they thought they were getting a backup, because for all intensive purposes, the Thrashers had every indication that Olaf Kolzig would be suiting up for a final season in the league. However, just a few weeks before the season is set to start, Kolzig announced that he wasn't fit for the season and would be retiring immediately. This is a huge blow to the Thrashers, however, it does give them a large amount of salary flexibility as the move also frees the Thrashers of Kolzig's $4,500,000 salary.

Biggest Issue Facing the Team:

Putting it all together. The Thrashers have been on a long road to recovery since Simon took over the team. In Season 5, they flirted with the playoffs and posted their best finish in 3 years. This year, the team has gotten better and the playoffs have to be closer than ever. Two clear offensive front lines, backed up by two clear defensive forward lines makes for a good top 12. The defensive corps provides a smart balance of offensive and defensive ability. The pieces are there, no question about it. The question is - can GM Simon complete the puzzle?

Goaltending. I originally wrote this article several days prior to the Kolzig retirement, so this one is brand spanking new. With Conklin now the main man in Atlanta, the question becomes whether or not he can be a starter in the CMHL. If GM Simon doesn't feel he can, look for something big to happen as Simon uses the Kolzig money to land himself a goalie who is at the very least capable of forming a tandem with Conklin.


Player To Watch:

Travis Zajac - Zajac has impressed every step of the way. He made the ICHF All-Star team in Season 4, and won the ICHF Rocket Richard Award. Promoted afterwards, he put up a very respectable 30 points in his rookie season last year, and was rewarded in turn with a 2-year contract extension. The tools are there for him to put up 60 points or more, but the question is, can he do it with Devereaux and Schaefer as his wingers? If there is an opportunity to pull off another Satan type move, I think the Thrashers have to be interested in giving Zajac better linemates to capitalize on his potential.

Season 6 Outlook:

The Hurricanes showed last year that they are a force to be reckoned with in the Southeast. However, beyond them, things start to open up just a little. The Panthers are coming off a disastrous season, while the Capitals have not tinkered with their roster significantly. If the Thrashers can play well against those two teams as well as the Lightning, they could be positioning themselves for a 3rd place division finish. And that should put him the playoff mix.