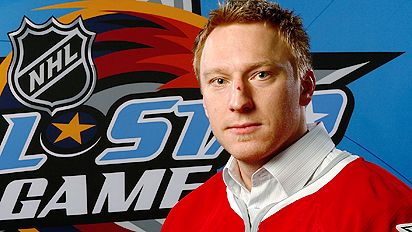 Anaheim has been fighting back to regain control of the division they've sat atop for the past 3 seasons, we take a look a closer look at the 2 Ducks that made this years CMHL All Star game as well as finding out why Hossa and Getzlaf are doing so well.
Two of Anaheim's best made their way to the allstar game in Dallas this year. Shea Weber joined Marian Hossa for the trip to the Lone Star state for this season's installment of the CMHL's best.
Shea Weber admitted to being quite shocked to being named to the squad but anyone who has watched the young defender this year the selection came as no surprise.
After a solid but unspectacular rookie season in which he scored 10 goals and 24 points playing in the top 4, Ducks management thought it was best for his development to spend the year with Sparta Praha logging top minutes. Posting 42 points in 62 games , as well as earing a spot on the ICHF West All Star squad Weber was called up and finished the year in California playing sparingly but gaining valuable experience in the Ducks playoff run. After playing a big role in Anaheim capturing the Invitational Classic, Weber continued his fine play and posted over a ppg in the preseason. This season logging top minutes on defense the big guy from Sicamous has looked stellar running one of the league's best powerplays. Tied for the league lead with 12 goals on the man advantage ,Weber also ranks 3rd in the defenseman point race with 43 points in 43 games.
Hossa , appearing in his 4th game in 6 seasons has been solid all year, leading the team in goals(24) and points(53) and has been the league's top scoring RWer for the most part of the season. After a disappointing 08-09 in which he posted career lows in every offensive category the Slovakian winger seems to be back to his old self and is currently on pace for a 100 point campaign.
Although the East beat the Western All Stars 5-3, both Ducks had solid games. Hossa played on the second line and showed instant chemistry with Columbus forward Pavel Datsyuk. The 2 combined for 6 points as the Duck's star forward notched 2 powerplay goals as well as a helper on Dion Phaneuf's late 3rd period tally. Weber also had a solid outing as the physical defender posted 2 assists as well as dishing out 4 hits. Hossa ended up being named first star in the losing effort after being snubbed as a starter on the team. Anaheim's GM publicly voiced his displeasure after his franchise forward was not voted in by the league's GMs.
"I found it hard to believe that with season that Marian is having he wasnt a starter, him and Getz have carried this team on their backs for past 20 games and are a big reason we have clawed our way back amongst the league's best."
The chemistry that developped late last season between him and Ryan Getzlaf has seemed to carry over into this year and apparentely its no fluke. Hossa brought the young Canadian to Europe this year to play on Jaromir Jagr's touring hockey team which plays exhibition matches against teams in both the Czech and Slovakian leagues and in a weird twist of fate had Czech born and current linemate Milan Michalek who was not part of the Anaheim organization yet playing on the left side.
"Haha, ya its kind of strange how that all worked out" admitted Hossa, " Ive played with Milan for the last 2 years on Jagr team and it has been great, we are both big, fast wingers who like to play a north south type of game, obviously Ryan is the perfect center for our style."
Asked about if it was hard to convince Ryan to come over to Europe and miss a beautiful Canadian/Califonian summer with family and friends Hossa joked " Ha, it wasnt that hard, Getz has been here before( playing for Sparta Praha) but had not signed his contract yet so i actually bought his ticket over, I think he might owe me now that we make the same money!"
Shortly after returning to California Getzlaf inked a 4 year 20 million dollar plus deal that ensured the Regina native would remain a Duck until he turns 28, in a show of faith Anaheim also named him captain of the squad.
After an impressive rookie season where he finished with 54 assists, just one behind the team lead Getzlaf has continued his playmaking ways with a team leading 29 assists but it appears hanging out with gifted scorer Marian Hossa has helped the young pivot in other areas of his game. After posting 23 goals in his first year with the big club, Getzlaf already has 16 goals and according to him it has a lot to do with his offseason spent in Europe.
"Marian has helped my game out immensely, he has taught me to be a bit more selfish with the puck and has also shown me different areas of the ice where putting the puck on net is a better option than passing it off."
Truth be told after directing 179 pucks on goal last year, Ryan already has 121 and it doesnt seem like the big center with 45 points in 43 games is going to change his ways anytime soon.
IN OTHER NEWS
Immediately after acquiring Brian Rolston from the Canadiens in a deal that followed a 2 wins in 9 game streak, Ryan Getzlaf handed over his captaincy to the veteran winger and it seems to have sparked the Ducks run back to the top half of the league. Since Rolston has come over, Anaheim has only lost 3 games in the past 13 and 2 of those losses have been in shootouts which shouldnt come as a surprise as the club posts the league's second worst shootout record (1-5). The Ducks now sit second in their division 4 points out of first but with a game in hand on the cooling Coyotes.
Brett Sterling has continued to play well with Sparta Praha and was selected to ICHF All Star game where he posted 2 helpers in a losing cause for the Western team. Sterling put up 60 points in his first year in the minors, 81 points last year and has continued his scoring ways this year pacing Sparta Praha with 45 points in 43 games but unlike others that have put up good numbers it doesnt seem as if the small statured winger will ever be able to make it on the big squad, he seems to be one of those really good minor league guys that just doesnt have the quickness to play in the CMHL.
Also the Ducks moved big defenseman Mark Fistric to the Wild in exchange for prospect Linus Omark. Fistric was only appearing on the Ducks second PP squad and for a team so close to the cap that made zero sense. Anaheim was pleased to acquire the small but very skilled Swede and talking to the Ducks GM it seems as if they have a deal in place for Omark to come over next year.
"We've already talked to Linus and he seems very excited to sign an entry level deal next season, its more than likely he will spend the year in Prague but we believe that with his talent level he has a good shot of becoming an impact player for us within 3 years. Putting up the kind of numbers he has in the SEL at such a young age puts him in very impressive company and we are excited to have this kid in the organization."
Although most have seen these, they are still a treat to watch.
http://www.youtube.com/watch?v=szWQPoOH2Rw
http://www.youtube.com/watch?v=ubUxA5e6WI0
http://www.youtube.com/watch?v=b_X5FdpsWpg