A rebuilding Tampa Bay Lightning team is clawing its way back into the playoff race in the Eastern Conference of the CMHL.
The team that had so much trouble scoring and sat dead last not that long ago is now within striking distance of the glory land.
ing a chance by acquiring pending FA Keith Tkackuk for underacheiving center Danius Zubrus seems to have been the latest catalyst this season. With Brian Rafalski and Tkachuk brought in to lead a young core or players, the lunch-bucket concept seems to be working.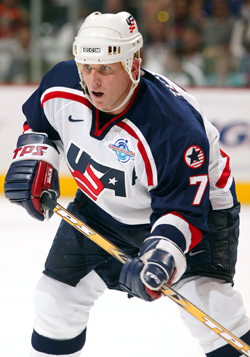 Tkachuk has moved up as the team's leading scorer on the top line, with 14 goals and 38 points in 44 games this season. Just as key, his presence has allowed Nik Antropov to move between Alex Tanguay and David Moss on the second line, which is clicking.
Case in point was the Lightning 4-3 win over Edmonton yesterday, where Moss scored the first goal on the power play, his 10th of the season, and then set up the game winning goal by Greg Zanon, also on the power play.
In the game, Antropov set up Tanguay for his 10th, while Tkachuk and Brad Larsen set up line-mate Chris Clark for his 11th.
Having two lines scoring has certainly helped the team of late, and they moved ahead of 10 teams in scoring of late. in fact, their goals for/goals against ratio that was so horrible early in the season is closing, with a goals per game average of 2.73 and a goals against under 3 per game.
Another benefactor of Rafalski and Tkachuk arriving is a revitalised power play, which now sits in the top half of the league.
Rafalski has provided a steady presence on the blue line for the core group. He was the leading scorer when arriving in Tampa (he has since been subplanted by both Tkachuk and Antropov) and has been a steadying factor for a core that has been improving all season.
The other incredible improvement for the team is that they have the potential to finish with 7 20-goal scorers. That would exemplify the way the scoring has spread out on this roster. Currently, besides Tkachuk's team leading 14, the club boasts Antropov with 13, Rafalski, Larsen and Clark with 11, and Moss and Tanguay at 10.
Headed into today;'s game against the Washington Capitals, the Lightning find themselves in 10th place in the Conference with 45 points in 44 games. They currently trail 9th place Philadelphia by 2 points and hold a game in hand. As well, they are 4 points back of the 8th place New York Rangers, but hold a pair of games in hand. The downside is that they would have less victories than either of those clubs if everybody won their games in hand, but at least the potential to make the playoffs with a strong second half is not as daunting.
- Laci Bloomers reporting -