After years of trying to put together a team to capture the CMHL Championship, the Ducks were finally successful in their hunt. Marian Hossa returned to form , Shea Weber became an all star, Ryan Getzalf continued his progression and Shawn Horcoff showed everyone his season 5 breakout and stellar post season play wasnt a fluke.
What will season 7 hold?
Although in Season 7 the Ducks will look upon their leaders to once again bring them deep , Anaheim will be trying out a totally different approach. Gone are the days of trading promising prospects for older veterans, this year the young guys will get a chance to prove their worth.
ANAHEIM DUCKS
Season 6 54-18-10 (1st in Pacific, 1st in West)
GM quackquack (5th year in Anaheim/CMHL)
CURRENT PROJECTED ROSTER
(incoming players in BOLD/ rookies in ITALICS)
Michalek- Getzlaf- Hossa
Bergeron- Horcoff- Oshie
Rolston- Hanzal- Kulemin
Mclaren- Murray- Rypien
Campbell- Regehr
Weber- Stralman
Hedja- Roy / Grossman
Backstrom
Leighton
Anaheim Offseason
As soon as Anaheim hoisted the cup, rumors began circulating about how the Ducks would remain competitive in the upcoming season with many important RFAs to resign as well as which veteran UFAs they would retain. Almost immediately following the party the first head to roll was Stanley Cup good luck charm Alex Frolov(3 cups in 3 years) who although finishing 5th in team scoring with 66 points was an RFA due for a raise and was thus deemed replaceable. He was shipped to Buffalo(later traded to San Jose) for high profile prospect Oliver Ekman-Larsson.
The next big name to leave town was Anaheim's premier shutdown defender Chris Phillips, making 5.5 million, the writing was on the wall with Webers contract up and so Phillips was moved to Atlanta for the 18th overall pick(later packaged with the 31st ov to move up and select Vladimir Tarasenko) where he will lead the defense for the dangerous looking Thrashers.
After the draft Anaheim promptly resigned their priority UFA Robyn Regehr to a very reasonable 2 year deal. Regehr who broke the 30 point barrier for the first time in his career will wear an A this season and will most likely see time on all 3 pairings as well as both special teams.
Shortly after Regehr signed, the Ducks came to terms with Nicklas Grossman on a 4 year deal worth just over 7 million. The big Swede looks to be able to carve out a career similar to Robyn and will see time in the CMHL this year, the only question is how much. Big and a hard hitter, Grossman still needs to work on his defensive game a bit before he can become a true shutdown defender.
The Ducks then proceeded to let veterans Jochen Hecht, Jerred Smithson and Mike Grier walk as well as Kim Johnsson whose career is in danger due to post concussion syndrome.
Jarret Stoll also signed a new 3 year deal but was dealt for big defensive center Martin Hanzal who the Ducks have been after for sometime now. Hanzal will anchor a defensive 3rd line along veteran winger Brian Rolston and rookie Nik Kulemin. With all 3 loving to throw around the body and Hanzal and Kulemin both weighing in at over 220 pounds and Rolston at 211 , this will be one of the harder hitting trios in the CMHL.
Anaheim then moved Curtis Glencross (acquired for a pick/prospects from SJ) to the Wild along with Justin Holl for Marc-Andre Bergeron. The dimunitive defender will move up front and play alongside Shawn Horcoff and rookie TJ Oshie to form the second line. Oshie started last season alongside Getzlaf and Hossa but was sent back to Prague after 16 games. The American forward proved his worth scoring 30 goals and 67 points in the 60 games he played as well as being the team's number 1 PKer.
The first line will feature Getzlaf and Hossa with Milan Michalek. Michalek will look to rebound and try to find his game after last season's demotion to the 3rd line. Marian Hossa will try to build on his best season as a Duck and try to return to the century mark.
Rounding out the offense, the fourth line will have newly acquired Marty Murray skating between 2 tough guys in Frazer Mclaren and Rick Rypien.

Biggest issues for season 7
Inexperience.
Losing 2 veteran defenders out of their top 4 from the championship squad will prove to be a test for the young blueline. Fresh off signing a new 12 million, 2 year deal Shea Weber will be looked upon to bring even more to the table than last year as he will most likely start with rookie defender Anton Stralman.
The bottom 6 forwards feature 4 players who are either rookies or entering their second full year, the Ducks are hoping that Rolston and Murray can bring a calming influence to the young checkers.
Player to watch
Ryan Getzlaf- Now entering his third season, Getzlaf will be counted on to play tougher minutes as well as center the first powerplay unit( formerly horcoff). The Ducks will look at their franchise center to realize his full potential and finally break 80 points after seasons of 77 and 78.
Season 7 outlook
If the young Ducks can shine there's no reason to think that Anaheim will give up their 4 year stranglehold on the Pacific as well as the Western Conference.
If they can't it will be a long year as the Ducks GM is committed to playing the youngsters this year as the influx of youth will continue for at least the next 2 season.
Anaheim top 10 prospects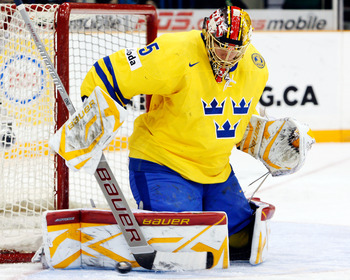 1. Jacob Markstrom-G
2. John Carlson- D
3. Oliver Ekman-Larsson- D
4. Vladimir Tarasenko-RW
5. Lars Eller-C
6. Kyle Beach-LW
7. Artem Anisimov-C
8. Jacob Josefson- C
9. John Moore- D
10. Mattias Tedenby/ Linus Omark- LWs