Season 7 of the CMHL is roughly at the 1/3 mark, and team's are starting to take shape. Earlier this season, I took a look at the top candidates for the Calder Trophy representing the Rookie of the Year. Now that players have had a chance to settle into their teams, let's see who living up to their billing and who might just be a bust.
For reference, the original top 10 was:

#10 - Zach Bogosian (CGY now VAN)
#9 - Jaroslav Halak (PHI)
#8 - John Tavares (STL)
#7 - TJ Oshie (ANA)
#6 - Jakub Voracek (CMB)
#5 - Tyler Bozak (NYI now MTL)
#4 - Jonathan Quick (PHX now CMB)
#3 - Matt Duchene (EDM)
#2 - James Neal (CHI)
#1 - Tyler Myers (EDM)

The League recently announced new rules for the identification of rookies, which eliminated a number of players from the race including TJ Oshie and Jaroslav Halak, not to mention Carey Price who was off to a terrific start after not even making the preseason top 10. At the 1/3 mark, here is what the ranking looks like now:

Dropped Off the Ranking: Jakub Voracek (CMB), Tyler Bozak (MTL)


#10 - Tuukka Rask (SJ)
Rask just missed the cut on the preseason ranking, but with Price and Halak having had their rookie designations removed, Rask is the second best goalie candidate remaining. His play this year has been good with respectable personal numbers including a GAA of 2.77 and a Save % of 0.908, but he plays on a Sharks squad that has underwhelmed overall and the Win-Loss record is just not there. That said, the Sharks just acquired superstar Alexander Ovechkin, and if the Sharks can turn it around, Rask stands a shot of climbing these rankings.


#9 - James Neal (CHI)
Neal drops 7 spots on this ranking. Although he has put up respectable numbers, including a rookie-leading 8 goals, a surprising number of players have been exceeding expectations so far this season. Its not that Neal is playing badly, its that everyone is playing better.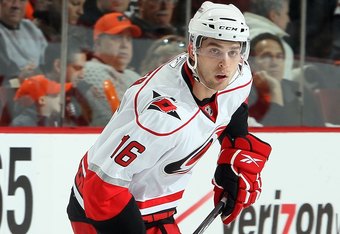 #8 - Brandon Sutter (DAL)
Sutter just missed the cut on the preseason list as Dallas did not have the look of a playoff team just yet, but they have surprised out of the gate with their solid play. Sutter has put up a respectable 15 points in 27 games so far this season, including a rookie leading 8 goals and a faceoff percentage of 47.7% (good for 2nd and nearly 1st among rookies). With the arrival of a more pure goal scorer in Tomas Fleischmann in Dallas, Sutter will have increased opportunities to pick up assists and could shoot up this ranking before the end of the season.


#7 - Jonathan Quick (CMB)
Quick drops 3 spots on the ranking, but is still the best candidate so far among the goalies for the Calder. That said, he is still a longshot at this point as his personal statistics (GAA and Save%) are not truly impressive. Still, he is the starting goalie for one of the best teams in the league currently, and if he can turn his own play around, he could find himself with a fighting chance at the end of the season.


#6 - John Tavares (STL)
Tavares moves up two spots on the ranking thanks to a solid start to the season in which he has 17 points (3 G, 14 A) through 28 games. He leads all rookie centres with a faceoff percentage approaching 48%, and has helped buoy St. Louis to their best start since Season 2. One thing holding him back is his horrific shooting percentage of only 5% on 63 shots (3rd among rookies).


#5 - Mason Raymond (ATL)
Raymond just missed the cut on the preseason list as it was unsure how much playing time he would see in Atlanta this year. But alas, with Atlanta struggling, Raymond has been given a big chance to impress with nearly 20 minutes of ice time per game, and he has used that to his advantage as he leads all rookies in goals scored with 8 and a total of 17 points in 27 games.


#4 - Jeff Skinner (TOR)
Skinner wasn't even on the radar when the preseason list was made as hockey pundits had him spending the season at the Junior level, but after Toronto struggled out of the gates, they excercised their contract option on Skinner in the hopes that a little youth might energize the team, and has Skinner ever impressed. With 15 points in 18 games, he would easily be leading all rookies in scoring had he started the year in Toronto. His 3 game-winning goals and phenomenal shooting percentage of 22% lead all rookies and if he continues at this pace, he could easily lead all rookies in scoring before the end of the season even though he is 10 games short of everyone else.


#3 - Matt Duchene (EDM)
Duchene holds on to the #3 spot on the ranking, as he leads all rookies in scoring with 21 points (5 goals, 16 assists) in 28 games so far this season. Things that are holding Duchene back from the #1 ranking are his poor faceoff rating of only 42% and that his stats appear to be propped up by team leading goal scorers and linemates Jarome Iginla and Fredrik Modin.


#2 - Zach Bogosian (VAN)
Although Bogosian was slated to start the season as a #4/5 defenceman in Calgary, the Flames traded him at the start of the season to the Canucks where he immediately shot up the depth charts. As the unchallenged #3 defenceman in Vancouver, Bogosian is off to a start that closely rivals fellow candidate Tyler Myers statistically, and as a result, he shoots up from #10 to #2 on the rankings. But Bogosian is the more physical defenceman of the two, which has seen him play a slightly more undisciplined game and receive a little less responsibility as a result, which is the only thing keeping him from the #1 spot at this point.


#1 - Tyler Myers (EDM)
Myers holds on to the #1 spot and continues to hold an edge over fellow defenceman Zach Bogosian in what more and more looks like the first year a defenceman could win the Calder Trophy. With 17 points through 28 games and a +17 rating, including 6 goals (4 of them on the power play), while playing nearly 22 minutes per game, Myers is playing the way a #1 defenceman should be playing.