The Wings have been amassing talent the past few seasons.Seasons of underachievement have given the Wings some high draft picks,topped by the 4th overall selection in 2009(Evander Kane).The team is weak up front,but a strong backend is being built by a steady and methodical drafting process.Here we will break down the
Wings top 10 prospects.
1)Tomas Tatar
Acquired:Trade with Montreal(July 21st-2010)
Position:Forward
Projection:Top 6 Scoring Forward
Tatar first came onto the radar during the 08-09 World Junior Championships in Ottawa,Ontario where he had an outstanding tournament.In 11 games,Tatar had 7 goals,and 4 assists,leading the Slovakian team in goals,and points.The breakout play of the small forward led Toronto to draft him 52nd overall in the 2009 entry draft.Tatar was then dealt to Vancouver,New Jersey,Montreal,and finally Detroit all within a year of being drafted. Kemmer loves the work ethic that Tomas brings to the table,and he will likely spend some time in the Ichf with Grand Rapids before making the Red Wings.
2)Brendan Smith
Acquired:2007 Entry Draft-23rd overall
Position:Defence
Projection:Top 3 Offensive Defencemen
Smith spent 3 seasons playing college hockey for the Wisconsin Badgers(who are coached by teammate Patrick Eaves father).A steady progression up the ranks for the smooth skating defencemen led to an amazing Junior season where Smith recorded 15 goals,and 37 assists in 42 games.Smith helped lead the Badgers to the Frozen Four final(held in Detroit) where they fell to Boston College.Smith was named to the West All-Star team with 7 assists in 4 games,and was a top 10 finalist for the Hobey Baker Award.Brendan has played 14 games for the Griffins this year,recording 2 goals,and an assist.Expect Brendan to play fulltime for the Griffs next season,with a chance at cracking the Wings.
3)Evander Kane:
Acquired:2009 Entry Draft-4th overall
Position:Left Wing
Projection:Top 6 Scoring Forward
Kane had a monstrous 48 goal,96 point season in the Whl during his draft year which led to him being drafted 4th overall.Kane is a effortless skater with a quick release of a shot,which has many scouts saying that he is similar to young Mike Modano.Kane(who is named for former heavyweight boxer Evander Holyfield) isn't just a one way player ether.He has proven that he can be trusted to backcheck and play the man when needed.Evander has one World Junior Championship appearance with Canada(08-09-Gold Medal),where he had 2 goals,and 4 assists in 6 games.Kane is a key piece in the Wings system and is expected to make the jump to the Cmhl as fast as possible,but at the same time,Kemmer knows that rushing a young prospect isn't the way to go.Look for Kane to hone his skills in the Ichf for a year or two before playing for the Wings on one of the top lines.
4)Stefan Elliott
Acquired:2009 Entry Draft-34th overall
Position:Defence
Projection:Top 4 Scoring Defencemen
Elliott is much like Smith in the respect that both players possess skating ability,offensive prowess,and the ability to change a game.Elliott chose to go the Major Junior route as opposed to college hockey. Every season has seen Stefan improve his play with the Saskatoon Blades of the Whl.Elliott has had his goal totals increase from 9,to 16,26,and 20 halfway through the season this year.He is the Whl's leading defencemen scorer,and is near the top of the plus/minus leader board with plus 35.With Mike Green,and Brendan Smith ahead of him on the depth chart for offensive defencemen,it will be interesting to see where Stefan finds a home on the team.
5)Charlie Coyle
Acquired:2010 Entry Draft-41st overall
Position:Right Wing
Projection:Two-Way Forward
Coyle slid down the draftboard to 41st where Kemmer couldn't let him pass.Coyle was a risky pick due to playing in the Ejhl,but is talented on both ends of the ice.Coyle made the US World Junior team and made them look good with his outstanding play.Even though the States flamed out earlier than expected,it was no fault of Coyle.Recording 2 goals,and 4 assists in 6 games,Coyle was much like Tomas Tatar in the fact that he was an under the radar player before the tournament.Charlie plays for Boston University,and is near point per game as a freshman.He looks to be a long term project and probably won't see any action with the Wings for 3 or more years.Remember his name,as he might be one of the steals of the 2010 draft.
6)Nick Petrecki
Acquired:Trade with Montreal(July 21st-2010)
Position:Defense
Projection:Defensive Defencemen
Petrecki is a former first round draft pick of the Anaheim Ducks(22nd overall,2007).He has played 30 games with the Griffins,recording 2 goals,and 8 assists,and is plus 11.Nick is a defence first player,who shuts down his opponents with his hitting and defensive instincts.While he isn't expected to score a ton of points,he does occasionally get a chance on the powerplay.Nick is a big,smooth skating defencemen with a canon of a shot.Kemmer likes what he sees in him,and firmly believes that he will make the jump to the show soon as a bottom pairing penalty killing specialist.
7)Braden Holtby
Acquired:2008 Entry Draft-92nd overall
Position:Goalie
Projection:Backup Goalie
Holtby has battled his way up the rankings from an afterthought pick to the Wings top goaltending prospect.Braden set a Blades goalie record with shutouts(7) in a career,and is expected to sign into a crowded crease in Grand Rapids.Al Montoya,Cedrick Desjardins,Ben Scrivens,and Jordan Pearce are all ahead of him for a job in the Ichf,so expect somebody to be moved to make room for Holtby.Holtby will have to play strongly to give himself a chance at staying in the pipeline,and if he doesn't expect him to go the way of Jeremy Smith(dealt to Washington for a 4th round draftpick in 2010).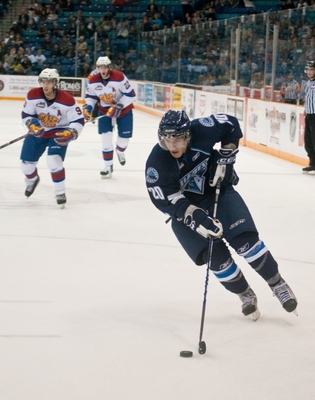 8)Josh Nicholls
Acquired:2010 Entry Draft-126th Overall
Position:Right Wing
Projection:Two-Way Forward
Nicholls was an early 2nd round pick in the Whl in 2007,and has steadily risen up the Blades depth chart to first line Right Wing this season.In 44 games this season Josh has amassed 21 goals,and 31 assists,bettering his previous highs in just over half a season.Nicholls plays in all situations,and is one of the Blades top players.With the deadline acquisition of Brayden Schenn,expect Nicholl's numbers to go up as he plays with an elite centerman.
http://www.cmhlhockey.ca/ArticleUpload/addarticle.php9)Dylan McIlrath
Acquired:2010 Entry Draft-15th Overall
Position:Defence
Projection:Defensive Defencemen
McIlrath was chosen for his defensive ability.He is referred to as the "Undertaker" because of his rough and tumble style of play.Standing at 6'5,and weighing 215 lbs,Mac is a hard nosed player who isn't know for puck moving ability.Kemmer saw talent in him and compares him to a young Shea Webber(who had similar stats as a junior),and sees Mac as a top 4 defensive defencemen,and a penalty Kill Specialist.Look for Dylan to patrol the blueline in Grand Rapids for a few seasons before getting a chance at big league minutes.
10)Maxim Kitsyn
Acquired:2010 Entry Draft-72nd Overall
Position:Forward
Projection:Top 6 Forward
Kitsyn is a high risk,high reward player.Helping team Russia to a stunning upset over team Canada in the 10-11 World Juniors(5 goals,4 assists in 7 games).One of Russia's best players defected from the Khl to join the Memorial Cup host Mississauga St Michael's Majors.In 4 Ohl games,Max has 3 goals,and 3 assists.His defection shows that he wants to play in North America.Look for Kitsyn to make the Griffins in 2 years time,and play top 6 minutes.
Best of the Rest
Forward Riley Sheahan
Defensemen Stephen Johns
Goalie:Jonathan Iilahti