Flaming Poo reigns across the land as False Creek wins Game 7 of the ICHF finals!
In what some have described as the best ICHF finals in many years, False Creek shut out California in game & to claim the 2nd best trophy in hockey. Down 3 games to 1 in the ICHF Final, GM Heald orchestrated a few key lineup changes that helped the Poo overwhelm the California Golden Seals.
It was by no means a traditional #6 seed the Poo were up against as California had proven itself by eliminating the #2, #3 and #4 seeds in the Western Conference. GM Ramage masterfully guided the Seals to an unprobable Finals appearance and were on the verge of winning the Cup after a game 4 victory, however, the Poo would not be wiped away so easily.
"After game 4 we were obviously pretty bummed out" explained backstopper Cory Schneider. "We still felt we could win the series coming home for game 5 but we also were aware of the fact when you drop a couple bombs like we did in California it was going to be very difficult to clean up the mess we made."
But clean it up they did.
A clean and tidy performance in game 5 gave the group some hope that they had what it took to beat this Seals team playing an airtight game in their backend coupled with superplug Cory Schneider's refusal to allow anything behind him. However, the team had to travel down the I-5 to California where the hot & humid weather played havoc on their defensive system. A full blown defensive meltdown saw the team allow 2 PP goals and 2 even strength markers, chasing Schneider from his net. Fortunately, the Seals Justin Peters was also having a rough day at the office and his game went into the shitter at the 8:24 mark of the 2nd period when he left he ice to attend to his upset stomach. False Creek got the winner in game 6 early in the 3rd period and hung on for a 5-4 win, their first and only win on Seals ice this year.
Game 7 was a different story. A focused, determined & hardened group of Poo were ready to expose themselves on the Seals. A tight checking first 2 periods saw the Poo holding a 1-0 lead on Ben Ferreiro's 7th goal of the playoffs. The 3rd period showed exactly what the Poo were made of as they EXPLODED for 3 goals and their 2nd home shutout of the Final series. The Poo did not allow a goal on home ice in the last 149 minutes.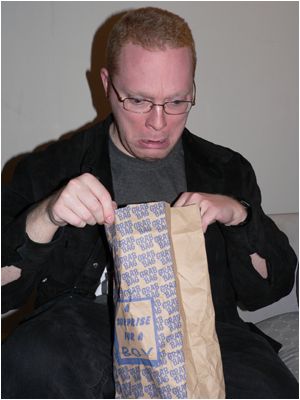 (Dan Ramage after the game)
The Poo will now relax and enjoy the first ever Championship of the Jets franchise
- Nomis Dlaeh