Every year, for the last 4 years, I have attempted to predict the Calder Trophy winner at the start of the year. After narrowly missing the mark in my first year, when my #3 candidate won, I have since then correctly predicted the winner 3 years running including picking Logan Couture to win the Season 8 Trophy. That said, last year I missed the boat completely on the other two finalists, Grant Clitsome and Corey Crawford.

Though I'm a little late to the game this year, as 1/3 of the season has already passed, I figure its never too late to get in the game. Let's see if I can make it 4 in a row, and even get all three finalists!
Honourable Mentions - Not quite top 10 at this point but could be candidates in the right circumstances.
Eric Wellwood (CGY), Ryan McDonagh (CMB), Nick Leddy (FLA), Nick Foligno (NJ), Erik Gustafsson (PHI)
#10 - Marcus Kruger/Cameron Atkinson (PHI)
Kruger and Atkinson currently sit #2 and 3 in rookie scoring, but I don't think either of these players is a long-term Calder threat this year. Both are playing well above their ratings thanks to their top line placement on a weak, rebuilding team. Reality will set in eventually for both of them, and though they will likely finish in the top 20 rookie scoring, they are not true Calder threats.
#9 - Jonathan Bernier (PIT)
Bernier has emerged onto the scene for Pittsburgh in the last few weeks, and in 11 games has gone 9-1-1 with stellar statistical numbers. Can he keep that up all year? Probably not, but Pittsburgh is playing like there's no tomorrow, and Bernier is a big part of that. If GM Brian Lawton sticks to Bernier for the year, he could be the dark horse candidate.
#8 - Karl Alzner (TB)
I don't typically put defensively oriented dmen on these lists because those skills aren't recognized by voters, but Alzner is playing for one of the best teams in the league, and his offensive numbers will get a boost because of it. Probably not enough though to separate him from the pack.
#7 - Jake Gardiner (BUF)
In my opinion, Gardiner represents the best chance for a defenseman to win the Calder this year. He's a prototypical offensive defenceman playing on a strong team, and should put up some impressive offensive numbers. But this year is the year of the forward amongst rookies, and I don't think Gardiner will be able to outshine them.
#6 - Brad Marchand (NYI)
Marchand has been around the league so long, I couldn't even believe he was a rookie this year still. But alas, he is and he currently leads all rookies in goals scored. If he can start passing the puck a little bit more, he would move into that top 5 group, but for now is on the inside looking out.
#5 - Ryan O'Reilly (EDM)
Much like the rest of the Oilers, O'Reilly was likely affected by a very slow start in Edmonton. But he has come on strong lately and is climbing the charts. The top 5 on this list could be completely interchangeable. O'Reilly is very much still a frontrunner.
#4 - Evander Kane (DET)
You've got to give credit to Kane for trying. His 74 shots are second among rookie forwards, but he has one of the lowest shooting %'s of all players. Detroit has struggled mightily this year which has likely contributed to Kane struggle's. But Kane has all the tools. I'm keeping Kane high on this list, because if Detroit can pull a playoff-bound season together, I predict that Kane will climb the scoring charts quickly.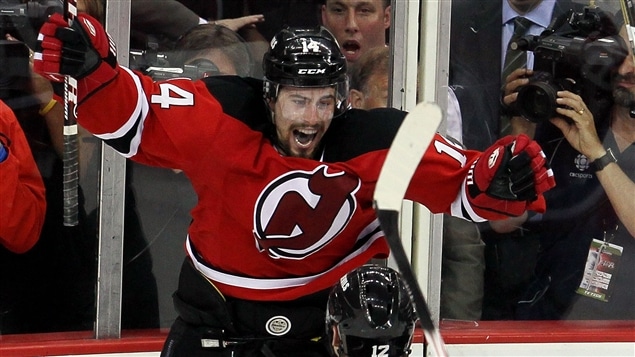 #3 - Adam Henrique (OTT)
Henrique is currently running away with the scoring race. Averaging more than a point-per-game so far, Henrique has all the tools to be a Calder winner. And there is no reason to expect him to slow down, as Ottawa plays a charged offensive game.
#2 - Tyler Seguin (FLA)
Seguin may be sitting nine points back of Henrique right now, but he's a loaded canon waiting to explode. Seguin has shot a measly 11% through the first 1/3 of the season. If he can get some more ice time, and start to connect on a few more shots, he could be primed for an offensive explosion.
#1 - Gabriel Landeskog (VAN)
Landeskog has been a dominant all around player this season. His offensive numbers aren't quite what Henrique's have been, but he's been the much better all-around player, as he has contributed on the power play and has been physical at both ends of the ice. Vancouver has succeeded this season largely on the basis of their strong defense. If their offense kicks into second gear, watch out for Landeskog.