For the second year in a row, the Los Angeles Kings will receive the #1 overall pick in the CMHL Entry Draft. "We pretty much sat back and realized that this season was going to be a season of just analyzing players, and helping us develope as a franchise" said GM Anthony Wyng.
"It was very important for me, as my first year in being a GM for the Kings, to put my stamp on this team, and to also get the best value for where we would be. I took a complete rebuild and brought my team youth and skill. Last season, we took Jordan Staal with the 1st overall pick, and then we took Kyle Okposo. Getting Okposo was great for trade bait as recently we acquired Kristian Huselius because of his potential valule in coming years" he added.
This season, it is all but 100% that the rumors are true. The Kings look to pick big rugged power forward James van Reimsdyk!
"JVR has been on our radar since last draft. We have had scouts and personell from our organization watch his development all year long. It is no secret that we will be picking him with the #1 overall." said the GM.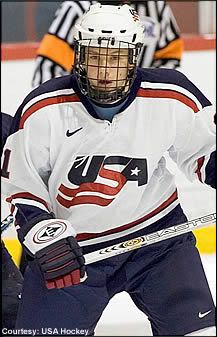 In having all the qualities to make the team out of training camp, we can almost be certain that GM Anthony Wyng will have JVR start out in the minors to develope at a high paced professional level.
"It's not every day you get someone who can step right into the line up. We will let James develope best we can. There is no rush right now as we continue to build a young team with skill and talent. This is a franchise about future, and that is exactly what we will be worrying about."
So, with the draft coming right around the corner, it is pretty safe to say who the #1 overall will be and why. More to come as we come closer to the draft...