The Sabres roster is taking shape into a very interesting team that could take the great honnors in 2009.
In his attempt to overflow the 2009 upcoming draft, GM Ludovic Raynal didn't took aside the main goals of the organisation; The conference title and the CMHL cup.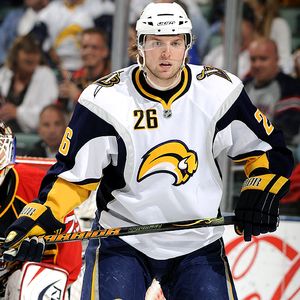 For the exception of the Jokinen trade, all the others managed to bring in either a pick, a great prospect (franson, Frolik who was later traded to the Flames) alongside an immediate replacement player.
In this process, Franchise winger Thoma Vanek and Martin Havlat, Brian rolston and Steve Sullivan will bring that lacking scoring touch that characteryzed last year's roster and will ease in the pro status of Young Toews, the jewel of the club.
Saku Koivu will then appreciate even more his passing abilities with such great talent at his side.
Pronger and Markov will be helped by defenseman Sergei Zubov, one of the best when it comes to playmaking abilities and leadership. That top 3 will probably challenge any in the league with its deadly offensive upsides and their top defense.
In the net, after the departure of one of the best goalies in the CMHL in Kipper, Carey Price will take the #1 duties, backed by the more than capable player in Manny Legace. "We have every confidence in Price, but you can't expect to send a goaly out there without something to ease his mind... We don't want him to blow himself up under the pressure and Manny definitely helps out with that issue" said the GM when legace was acquired from the Oilers.
Stay tuned people, 2008-2009 looks promising...