Tomorrow marks an occasion that GM's look forward to all year, every year. The opening of the Free Agent Market, the first chance players get to negotiate with new teams.
25 of the 30 GM's sent in offers for Unrestricted, Restricted or Unassigned Free Agents this weekend. Most of these GM's sent the maximum number of offers possible.
Who will go where? Will the best FA catch, Scott Niedermayer stay on the West Coast, or will he uproot his family and move to the East?
Will J-P Dumont, a surprise UFA after the Kings decided to let him walk, prosper on the open market?
These questions and more, to be answered on Monday...but for now, read on for some hints as to what we might learn.
An unnamed league source has been quoted as saying that he believes that Scott Niedermayer has been offered the league maximum annual salary of 8.8 million by at least one team, if not more. Its unsure where exactly this offer is coming from, but somebody out there has deep pockets as its also believed to be a long term deal.
With regards to J-P Dumont, it looks like he will benefit significantly from the Kings decision not to resign him prior to the UFA period. Dumont made 2.2 million last season, and league sources are indicating that he has been receiving offers that are more than double that salary. The frontrunner appears to be an Eastern Conference team that stepped up to the plate with a 4 year deal, but details are sketchy at this time.
Next to these two, rumours are swirling that the most sought after Free Agent was none other than Filip Kuba, who put up stellar numbers with Detroit last season. Its believed that Kuba is preparing himself to turn down an offer to return to Detroit in favor of signing a longer term deal with an Eastern Conference team. Pittsburgh and Toronto are rumored as the front runners.
The best goalie available is another former LA King, Martin Biron. Biron is said to be looking at anywhere between 5 and 10 offers, ranging from 2 to 4 million a year. He has publicly stated that he wants to sign a 4 year deal, and its believed that Tampa Bay and St. Louis have the inside track.
Super pest Darcy Tucker is getting a lot of interest on the open market from teams looking to add intensity to their lineup. Tucker has stated that he would like to stay on the East coast after spending the last 2 years in Toronto. Last year, a contract year, was particularly good for Tucker as he set career highs in most offensive categories and participated in the All-Star Game. Its believed that two Atlantic division rivals have the inside track on this one. Whoever does though will be instantaneously more feared in the East.
Mathieu Schneider may be 39 years old but he still knows how to move the puck, though he did have his worst career offensive season last year on a terrible Toronto squad. Nevertheless, 4 teams are duking it out for Schneider, and its believed that either Buffalo or Atlanta has the inside track. Another defenceman you don't hear about much is Bryce Salvador. His agent tells us that Salvador is a big country music fan and that he has targeted a city that could promote his fandom. League sources are also indicating that this same city has made a hard push for a second defenceman of the same mold, Hal Gill.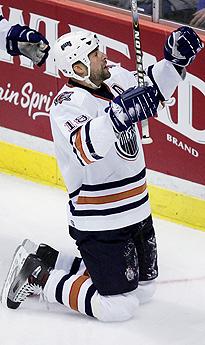 Ethan Moreau was a Selke Trophy finalist this season, and he has been receiving offers from a number of teams. Its believed that one team from the Pacific division has really stepped up to the plate with a great offer which blew all the other offers out of the water, but at the last minute, an Eastern Conference team came into the picture with a similar offer.
When people talk about defensive forwards, one name that always comes up is Kris Draper. Draper guided the Columbus penalty kill all the way to the Cup Finals last season, and with the Jackets being one of the most penalized teams in the league, really got to showcase his skills. That's really paying off now as he gets set to consider a long term deal with a Western Canadian powerhouse.
Moving to the Unassigned Players front, there was a surprising lack of offers for unassigned, i.e. European, players. However, the one guy that was all the hype for a few months before everyone forgot about him is Fabian Brunnstrom. He is said to be mulling offers from two Eastern Conference cellar dwellars, one of which is a former Stanley Cup Champion.
On the Restricted Free Agent side of things, there were a number of offer sheets submitted as GM's were not afraid to test their counterparts. However, it looks like all the offer sheets will be matched, with one exception. A league source out of Edmonton is indicating that the Oilers have decided not to match an offer sheet made on Ladislav Nagy. Should Nagy sign with the team, the Oilers would collect two 1st rounders, a 2nd and a 3rd, all in the 2009 draft.
Quick Hits
Some other rumours circulating the league include:
Eric Belanger and Ryan Johnson to Dallas
PJ Axelsson to Jersey
Pascal Dupuis to Calgary
Johan Hedberg to Tampa
Brent Krahn to the Flyers
Jamal Mayers to Colorado
Rob Niedermayer to Vancouver
Janne Niinimaa to the Penguins
Dennis Seidenberg and Jon Sim to the Habs
Todd White to the Oilers